The 2023 version of CRP Gen is now available.
As a Minnesota landlord, managing agent or nursing home administrator, the Minnesota Department of Revenue requires that you annually provide each of your tenants with a completed Certificate of Rent Paid (CRP). For many, this is a time-consuming task that consumes valuable time each and every year.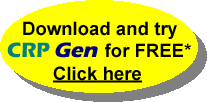 If you'd like to spend less time generating CRPs, Smartrak Group has a solution for you: CRP Gen.

With CRP Gen, you can quickly generate one, fifty, even hundreds of completed CRPs. Interested? Click any of the buttons along the left side of this window for more information.



Easy-to-use


Low-cost


Fast CRP generation


Automated calculations


Flexible data entry


Review CRPs online


Print now or print later


Supported property types:
-- Rental properties
-- Nursing homes
-- Intermediate care
facilities
-- Adult foster care
-- Assisted living facilities
-- Mobile home lots